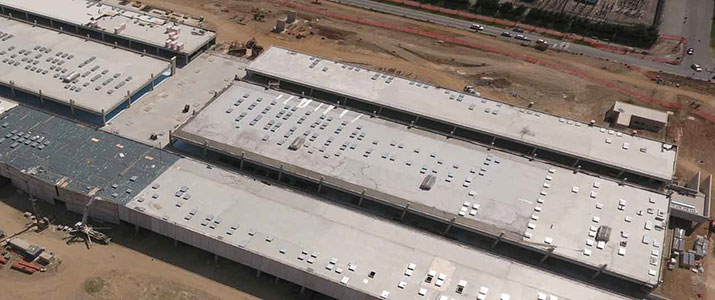 The 40,000 sqm roofing of the new Outlet Village in Torino that is rising nearby the city centre is fully protected by waterproofing materials manufactured by SOPREMA GROUP. The employed waterproofing system is a warm roof TPO covering with fixed concrete ballasting. The fixed ballasting layer protects against accidental mechanical damages of the waterproofing membrane and maintains the waterproofing system at its place resisting against the wind force. The synthetic waterproofing layer is independent from the support and is reinforced with glass veil in order to guarantee a greater stability.
The main features of the roofing system are: the thermoinsulating element Efigreen Alu+ made of polyurethane PIR, thickness 8 cm and Lambda 0.022; TPO synthetic waterproofing membrane (Thermoplastic modified polyolefins) Flagon EP/PV, 1.8 mm, setting independent from the structure.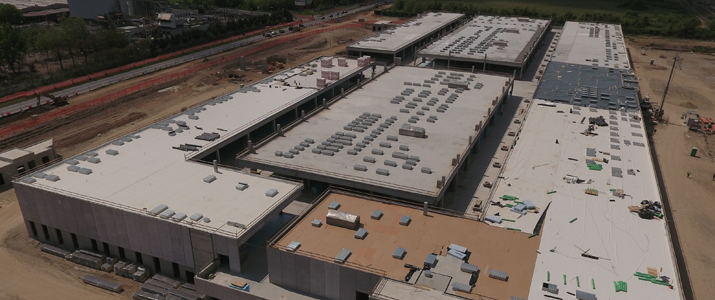 The setting of the waterproofing system has been carried out in 40 working days only, by Tecnosimper, located in Sedriano, Milan. As usual the synthetic waterproofing membrane FLAG Spa SOPREMA GROUP in modified polyolefin FLAGON has been a successful choice, thanks to its key technical characteristics such as: dimensional stability, rotproofing, high mechanical resistance, adaptability to structural movements.