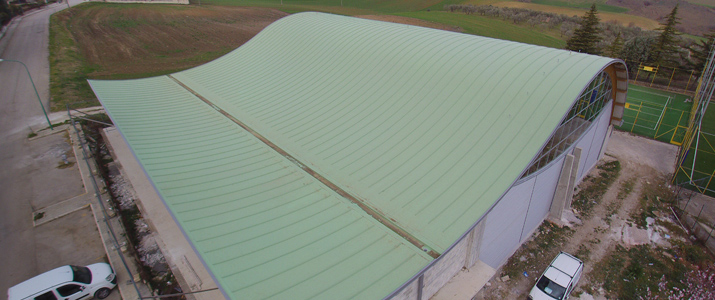 The roofing works on the Multi-function Gym at Banzi, in the province of Potenza, are finally over.
Flag waterproofing membranes cover the wavy roofing that characterises the new sport facility of this town in Basilicata.
The architectural project chosen by the designer required a waterproofing system able to emphasize the features of the roofing, making it visible from the surrounding plain. Flag products successfully complied with these requests.
The architectural solution with "metal design system" finishing needed the setting of a PVC-P membrane with mechanical fixing SRF, 1.8 mm, colour green RAL 6021.
The choice of this colour allowed to further mark out the organic shape of the roofing, making it a focus point of the Lucanian town.
The subsequent setting of finishing decor profiles allowed the reproduction of the superficial design with anchoring lines typical of metal sheet roofing.
The waterproofing system proposed by Flag S.p.A. was successful because it is easy and quick to set, even in case of roofing with complicated shapes, like this one.
All this thanks to the rolls of synthetic waterproofing material mechanically set onto the surface of Banzi gym. The hot welding of adjoining rolls overlaps ensures a continuous roofing all over the structure, and creates a complete waterproofing barrier, successfully carried out by Fispo srl, in Tito (PZ).